July 12th 2021
WINDOWS 11 IS COMING SOON - WHAT CAN WE EXPECT TO SEE?
Windows 10 is now over 6 years old, first released back in 2015. Over the course of the years, it has received hundreds of updates over its lifetime. It's time to say goodbye, as support for Windows 10 ends on October 14th 2025 and the new and improved Windows 11 is almost on your doorstep!
Microsoft have announced that they are ready to roll-out the all-new Windows 11 later this year out-of-the-box for new devices that are going to be released. But it seems we need to wait until early 2022 to experience Windows 11 on the devices we currently use.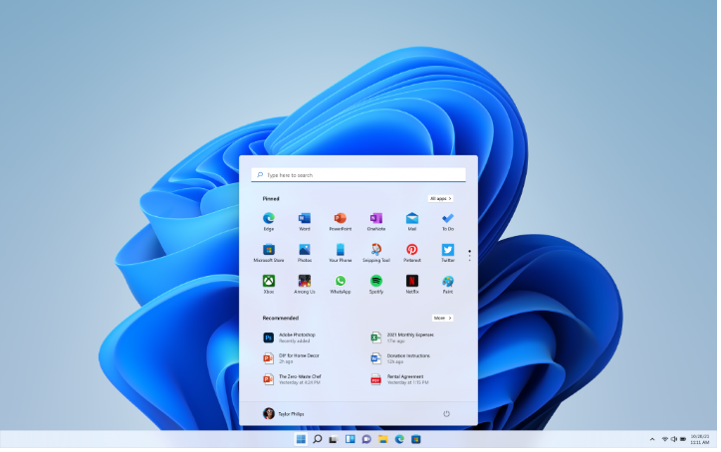 Windows 11 – What's new?
The first thing we noticed is the new design, which we are a fan of! The new OS comes with a user interface overhaul, new animations, an update to the start and taskbar menus and new sounds & themes.
All your notifications will be shown in the new notification centre and the file explorer has also gotten a touch up with a new command bar to make your file finding and organising fresher.
There are now widgets that people with Android devices are familiar with. These are small windows of apps that you can use to get information and activate functions quickly, such as a window to see the weather, your calendar, news stories etc.
One of the main features that we are excited about is the new multi-tasking experience which lets you snap multiple windows into different layouts, allowing you to use multiple programs at once with real-time updates. This should be a powerful feature for those that are using multiple monitors and want to make the most out of multi-tasking.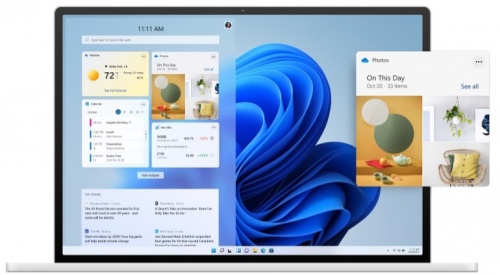 Security Improvements and Market Share
With the new Windows 11 comes improvements to security, but what's worrying is that according to Statcounter, 15.56% of users in June 2021 are still using Windows 7 which is now out-of-date and a potential security risk if connected to your businesses network. 3.46% of users are using Windows 8 and 8.1 combined, which should both be updated to Windows 10 as well.
At Lily, we can update your devices to Windows 10 (and eventually Windows 11) and can even perform a FREE site-survey to identify devices or areas of your business's network that are in need of updates to improve security. Get in touch today by completing the contact from on our Manged It page to book your audit today.
Microsoft's New Image
It does seem like Microsoft are aiming to make the Windows 11 experience much easier to use, with a more minimalistic design as well as improving the functionality of touchscreen navigation. Does that remind you of anything? It's clear that Windows has taken some big hints from MacOS as to what people like about Apple devices and want to also experience on Windows machines.
With the new multi-tasking and touch screen improvements, we think that Microsoft is aiming to promote the new Windows 11 OS and eco-system of devices directly to creatives, of which many look at Mac devices first.
As with Windows, the customisation and all-round cheaper costs won't go anywhere, but with the new OS updates Microsoft seems to be targeting a new audience to take over some market share from Apple.
What are the system requirements for running Windows 11 using your current hardware?
To upgrade your current machines over to Windows 11 you need to ensure your hardware includes the following:
At least 4GM of Ram (We recommend 8GB nowadays for trouble-free multi-tasking for most)
2+ Core 64-Bit Processor faster than 1 GHz (We recommend a Quad-Core processor nowadays)
64GB Storage (Minimum)
At least a 9" diagonal display with 720p resolution
Some notable changes when moving to Windows 11
Internet Explorer will be disabled, forcing the use of Microsoft Edge or an alternative browser.
Snipping Tool will now have the same interface as Snip & Sketch.
Skype, Paint 3D, OneNote and 3D Viewer will need to be installed from the Microsoft Store and won't be pre-installed.
Will your devices be able to support Windows 11, or only pass with the bare minimum which could limit speed and performance? We can even provide cost-effective Hardware as a Service plans to get your team on new devices that will support the eventual move to Windows 11 with ease, visit our Software as a service page for more information.
Why Choose Lily?
Multi Award-Winning Business
86% of our customers have saved money
We work with leading technology partners for the most innovative comms and IT solutions
Tailored services unique to your business
Consolidate your bills & services with one trusted provider
Account manager support
24/7 support options