Microsoft Teams
IVideo calls are now more important than ever, not only in business but in our private lives too.
Get a Quote
Enter your contact details below and a member of our team will be in touch shortly.
Video calls are now more important than ever, not only in business but in our private lives too
The value of video conferencing is not to be underestimated. It's another way businesses can see each other without the need to travel.
Here at Lily, we are supporting businesses in having better conversations with their teams, customers and suppliers by offering businesses 6 months free access to Microsoft Teams Business for a limited time only.
Key benefits of video conferencing over voice calls.
Ability to see who you are speaking to
Ability to share presentations and reports
Conversations generally flow much better on video
Strengthens the relationship between the users
There are lots of video conferencing tools out there, so why opt for Microsoft Teams?
Microsoft Teams is extremely user-friendly and has many core components that make it stand out from other collaboration software.
The features of Microsoft Teams
Fully mobile: works on desktop, tablet and mobile.
Chat functionality: The basic chat function is commonly found within most collaboration apps and can take place between teams, groups, and individuals.
Document storage in SharePoint: Every team who uses Microsoft Teams will have a site in SharePoint Online, which will contain a default document library folder. All files shared across all conversations will automatically save to this folder. Permissions and security options can also be customized for sensitive information.
Online video calling and screen sharing: Enjoy seamless and fast video calls to employees within your business or clients outside your business.
Full telephony: That's right! The days of seeking VoIP vendors and overspending on a phone system are finally over. Microsoft Teams can completely replace your business' existing phone system. Note this requires additional licensing.
Online meetings: This feature can help enhance your communications, company-wide meetings, and even training with an online meetings function that can host up to 10,000 users. Online meetings can include anyone outside or inside a business. This feature also includes a scheduling aid, a note-taking app, file uploading, and in-meeting chat messaging.
Audio conferencing: This is a feature you won't find in many collaboration platforms. With audio conferencing, anyone can join an online meeting via phone. With a dial-in number that spans hundreds of cities, even users that are on the go can participate with no internet required. Note this requires additional licensing.
Microsoft take security seriously. Many video platforms such as Zoom and House Party have been hacked and millions of users compromised.
We have created a comparison guide, to show the differences between Microsoft Teams, Collaborate, e-LG and On-Premise phone solutions. This guide will help you to understand which platform will suit your businesses needs and the features which will support your growth.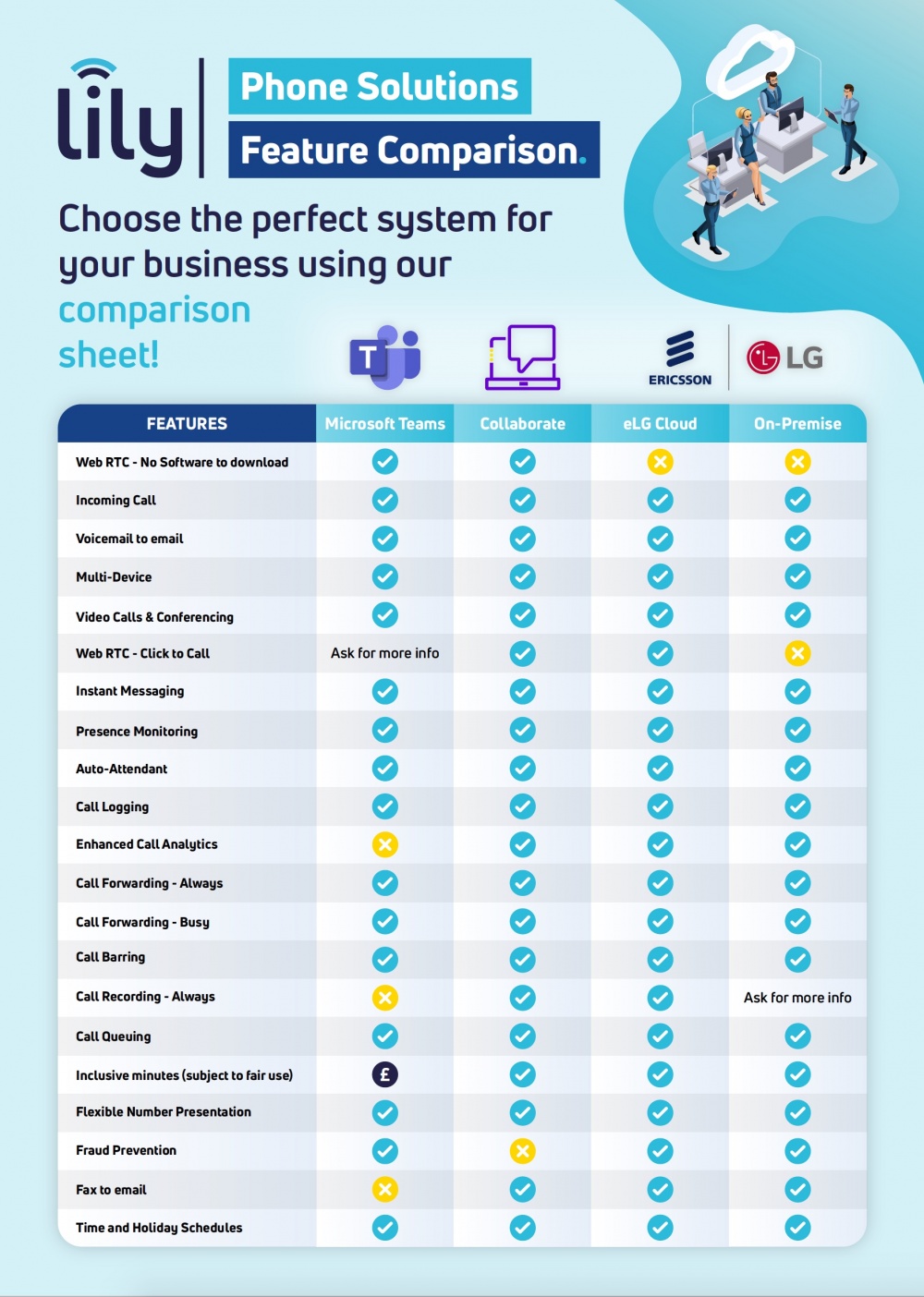 Video calls are now more important than ever, not only in business but in our private lives too, contact a member of our team today.
We partner with some of the worlds leading technology brands







Why Choose Lily?
Multi Award-Winning Business
86% of our customers have saved money
We work with leading technology partners for the most innovative comms and IT solutions
Tailored services unique to your business
Consolidate your bills & services with one trusted provider
Account manager support
24/7 support options