Thursday 23rd 2020
EVERYTHING YOU NEED TO KNOW ABOUT iPECS2TEAMS
Microsoft Teams has been a collaborative tool used by millions of businesses across the globe during the pandemic. Businesses have recognised the benefits of remote working, achieving a better work-life balance. Microsoft Teams has allowed people to have better conversations through video and allowed them to be more productive with the instant messaging chat function.
Although video calls are the "new normal", phone systems are still a crucial tool for businesses, it's now more important than ever to allow your business to innovate and integrate technology to create one fantastic collaborative solution.
iPECS2Teams have teamed with Microsoft Teams bringing the calls from iPECS Cloud to Microsoft Teams users. Adding voice and calls to Teams delivers improved user productivity and effectiveness of the Microsoft Teams platform. Businesses can say goodbye to the frustration of having two systems and say hello to iPECS2Teams on PC, Mac and mobile!
The implementation of iPECS2Teams is super-fast, it doesn't require any hardware or software and importantly, there is no disruption to iPECS Cloud. It's all controlled via an easy-to-use web portal, it's fully secure and approved for use on iPECS Cloud. iPECS2Teams calls are routed through gateways operating in Microsoft Azure data centres.
Some of you may be aware that Microsoft can provide a facility which allows users to make and receive calls from Microsoft Teams. However, this requires replacement of your entire business phone system and moving your telephone services and billing to them. Whilst this may suit some organisations, we generally find that this is generally a cost that companies can't justify.
Below is a comparison of the methods to achieve calls in Microsoft Teams, as you can see iPECS2Teams is the best solution with integrating the Microsoft Teams collaborative platform.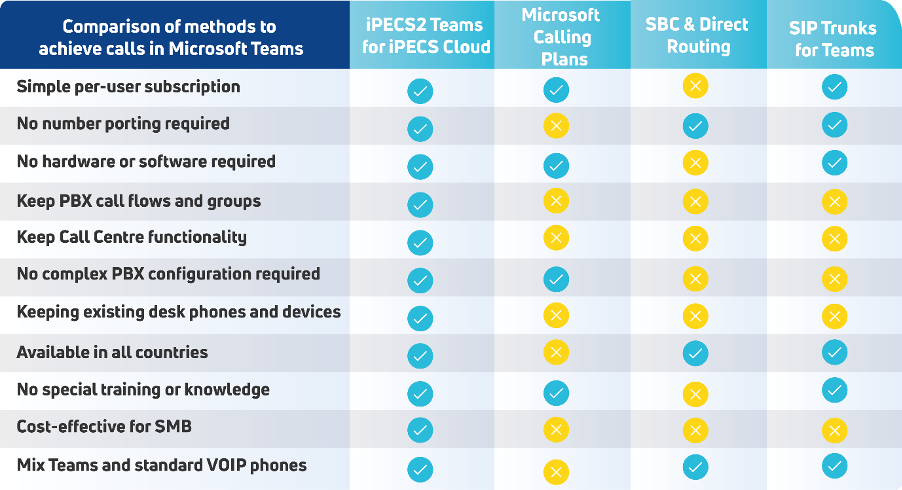 If you would like to find out more about iPECS2Teams then please contact us by clicking here.
Why Choose Lily?
Multi Award-Winning Business
86% of our customers have saved money
We work with leading technology partners for the most innovative comms and IT solutions
Tailored services unique to your business
Consolidate your bills & services with one trusted provider
Account manager support
24/7 support options